History of Myanmar
Discover the history of Myanmar on your private, tailor-made tours with travel tips from our experts.
A former British colonial stronghold in Southeast Asia, Myanmar (previously known as Burma), has experienced several upheavals over the centuries.
Only once did Myanmar truly prosper in its history. This golden age was during the 11th century when the Pagan Empire was in power. Sadly, two centuries later Kublai Khan's army swept through the country and plunged Myanmar into darkness.
When the British East India Company came to power in the 19th century, Myanmar became a province of British India. The Second World War brought fresh misfortune as Myanmar was a key battleground in the war, liberated only just before the Japanese surrender in 1945.
The regimes that followed crippled the economy, imposing martial law and changing the country's name from Burma to Myanmar, ostensibly to rid them of the vestiges of colonial rule. Elections were repeatedly postponed but order was restored after an intervention from the United Nations.
Today, despite some difficulties, the political condition of the country is on the upswing and Myanmar tourism has opened up the country to additional economical strength.
Top Myanmar Travel Tip
Our private Myanmar tours are incomplete without a visit to the historical temple complex in Bagan. Pack good walking shoes as this incredible sight is spread across 104 km².
Explore
Where do you want to go? What do you want to do? Be it popular sights or off the beaten path experiences, tell us your travel dream through our trip planner.
Design
Our destination experts will get in touch with you to craft a completely tailor-made, obligation-free itinerary to match your interests and budget.
Experience
Once you have booked your trip, sit back and relax – we'll take care of everything else. With our exceptional local team & 24/7 support, priceless memories await you!
Close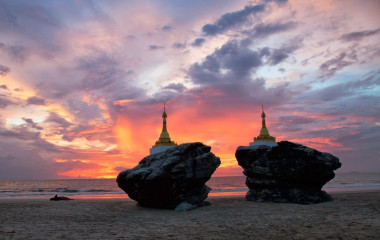 Culture and Landscapes in the Heart of Myanmar
13 Days: $ 3,045
/ person
Discover an imposing cultural heritage and timeless landscapes in Central and East Myanmar. Soak in the serenity of idyllic villages, enjoy authentic local experiences and take a nostalgic railway ride across the famous Goteik Viaduct on this private tour of Myanmar.
The Undiscovered South of Myanmar
17 Days: $ 3,790
/ person
Go off the beaten path on this tour of Myanmar. Rising only recently from centuries of isolation from the rest of the world, southern Myanmar offer incredible landscapes, cultural delights, relics of colonial heritage and hidden jewels to travelers.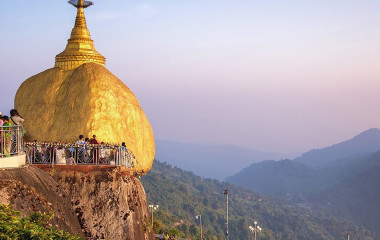 Secret Treasures of Myanmar
8 Days: $ 1,500
/ person
This Myanmar vacation takes you on the road less traveled to lands where hidden jewels and secret treasures await. In the south, explore a bustling cultural center, beautiful land and seascapes, and colonial heritage.
Load More
THE ENCHANTING DIFFERENCE
One of the very best travel experiences I have ever had. We even got updates once at 3 am! He also made one change in one day's itinerary to accommodate our wishes which was very wonderful. For business, I have traveled to Europe, Russia, all over Asia and South Africa but was blown away by all the beautiful sites in Argentina and Chile.
All the little touches made by our Enchanting Travel consultant, Amelia Edwards, were noticed and recognized by my wife and I. Thank you for making our milestone trip (25th wedding anniversary) such a memorable one! We look forward to engaging Enchanting Travels again for our next South American adventure!!
This was my first adventure as a solo traveler. But while I may have traveled on my own, I was never alone. I was well taken care of by a superb team of planners, trip coordinators, guides and drivers.
Do you have a vacation in mind? Personalize your itinerary with our Trip Builder.