When is the best time to visit Oceania?
From the grand outback of Australia to the mountains of New Zealand, Oceania is a massive and diverse continent. This diversity is mirrored in its climate, so, when deciding on the best time to visit Oceania there are a number of things to consider.
One thing you should remember, as Oceania is on the southern hemisphere, the seasons are inverted. For example, if you visit Australia in December expecting the coldness of winter, you will find yourself in glorious sunshine. Instead, Summer in Oceania is during December, January, February.
Most Ideal
Low Season
OVERVIEW
January is the warmest month of the year with average temperatures around 70°F – 75°F. It is also peak tourist season, for visitors and locals alike, and the country is alive with events and concerts. With 14-15 hrs of sunlight in a day, there is a lot you can do this time of the year.
we recommend
Hike the trails of Mount Cook National Park
Join in the excitement at the New Zealand Sevens rugby tournament
Spot dolphins off the coast of South Island
OVERVIEW
While not reaching the temperatures of January, February is still a hot time to be in Oceania. This being said, around coastal areas of Australia such as Sydney, the temperature can be a relatively comfortable 73°F (23° C). In New Zealand, given the varied climate, you will find it hot in the north, reaching around 77°F (25°C), dropping to a cooler 50°F (10°C) in the south. 

WE RECOMMEND
Savor fine wine and food at the Marlborough Food and Wine Festival
Head to beaches of Mount Maunganui for some fun under the sun
OVERVIEW
Now that we're fully in fall, the weather becomes much more comfortable across the board. In Australia, the weather stays between 64-77° F (18-25°C), with New Zealand being generally cooler (but far from cold). In addition to the weather, many great cultural events (such as Anzac day, Australia and New Zealand's day of remembrance) and festivals, take place around this time, making fall the perfect time to visit Oceania.
WE RECOMMEND
Spot wildlife in beautiful Fjordland
Enjoy New Zealand's stunning natural scenery on a Great Walk route – such as the Routeburn Track and the Abel Tasman Coast Track
OVERVIEW
In April, the temperature drops further, though it remains comfortably warm, so don't worry about missing out on some sunbathing or beach barbecues. In Australia, the temperature can vary between 68° F(20°C) to a very hot 86° F (30°C). Further south in New Zealand, you will find it comfortably warm throughout. In some parts of South Island, expect heavy rainfall.
WE RECOMMEND
Surround yourself in the breathtaking fall foliage in Hawke's Bay
Stargaze in Lake Tekapo
Cycle down the Queen Charlotte Track in Marlborough Sounds

OVERVIEW
As we approach Oceania's winter, there is increased temperature variation. Australia remains warm, while New Zealand's South Island can be quite cool, if not outright cold. So checking the weather of where you are going can be very important.
WE RECOMMEND
Seafood lovers unite at the Bluff Oyster Festival
Hang out by the Wellington waterfront for some whale and orca watching
OVERVIEW
June is the start of Oceania's winter, yet surprisingly, some places can still be quite warm. In Sydney, for example, it's not uncommon for it to be a bearable 50°F (10°C). Though, in New Zealand's South Island, around Franz Josef Glacier, it can be almost freezing.
WE RECOMMEND
Welcome winter at the Queenstown Winter Festival
Explore the breathtaking, snow-covered Franz Josef Glacier
Set off on a whale-watching cruise in Kaikoura
OVERVIEW
July is mid-winter, and therefore, the coldest it will get in Oceania. However,  as in June, some parts of Australia and northern New Zealand remain quite warm. In July, New Zealand experiences the most amount of rainfall and bitter cold on the South Island. While this may sound negative, New Zealand has some great places for skiing, and July is the prime time for it.
WE RECOMMEND
Celebrate Matariki, the Maori New Year, at the Te Papa Museum in Wellington
Soak in a hot spring in Rotorua
Hit the slopes at Mount Ruapehu in North Island
OVERVIEW
August is the last month of winter so you might notice the temperature begins to rise and the rains slowly decreasing in frequency.  This being said, the change is gradual, in Australia temperatures can be as low as 57°F (13°C). In New Zealand, the temperature goes from cool to cold.
WE RECOMMEND
Take in the spectacular scenery at Milford Sound
Savor an explosion of flavors at Visa Wellington on a Plate
Winter hike across the Tongariro Alpine Crossing

OVERVIEW
In September, Oceania enters spring, with some of New Zealand's winter snows beginning to melt as the country warms up further and the rain continues to fall. In Australia, the temperature begins to rise from comfortably warm to relatively hot, though temperatures can fluctuate wherever you are.
WE RECOMMEND
Say hello to spring with Nelson's Cherry Blossom Festival
Stroll through Christchurch, the Garden City of New Zealand
OVERVIEW
October is a low tourist season but pleasant temperatures and colorful festivals make the month a good time to visit Oceania. Spring is well underway with the country bathed in hues of green and floral shades. Locals enjoy the return of warmer climes with hikes, treks and other outdoor activities.
WE RECOMMEND
Discover the harbor city of Wellington
Attend the Auckland Heritage Festival
OVERVIEW
In November you'll experience a good balance between the heat of summer, and the comfortable relative coolness of winter. In New Zealand, expect slightly decreased rainfall too. Given this, coming to Oceania in November could be a good idea if you want to avoid the intensity of the summer heat but can't come during the fall.
WE RECOMMEND
Visit Hobbiton, the site of The Lord of The Rings film
Walk through a tunnel to reach the spectacular Tunnel beach in Dunedin
Savor a traditional Maori Hāngī meal at the Bay of Plenty
OVERVIEW
In December, expect the same intense heat as in January. In parts of Australia, it can be scorchingly hot (rarely straying below 70°F on the cooler coastal cities), and very warm everywhere else. So, if you find intense heat difficult, traveling to Oceania in summer may be the best idea. Once again, we recommend coming in the spring when the climate is more agreeable and there are many interesting things to see and experience.
WE RECOMMEND
Ring in the New Year in Gisborne – the first city in the world to welcome the New Year
Enjoy the pristine beaches of New Zealand, along with generous servings of fish and chips
Sip on world class Pinot Noir at a winery in Central Otago
Dream Carefree
Go ahead and dream big. Enchanting Travels experts are here to help you plan the ultimate escape. Tell us your vision for the trip of a lifetime and we'll make it a reality.
Plan Carefree
One of our destination experts will reach out to craft a completely customized itinerary. Book your personalized journey and know that our flexible policies have you covered.
Travel Carefree
Relax and prepare for takeoff, knowing that your trip is perfectly planned and you have a personal concierge on call 24/7. Our experts are here to keep you safe and handle the details.
Close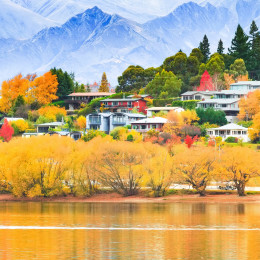 New Zealand
The climate of New Zealand is far more varied than that of nearby Australia, with significant changes in rainfall and temperature depending on where you are in the country. For example, South Island is quite alpine, with snow-capped mountain ranges (as seen in the popular Lord of the Rings films) and vast glaciers. So it can be quite cold, even reaching 14°F (-10°C) in the winter. Northern New Zealand, however, is subtropical with temperatures even getting as high as 86°F (30°C) in the summer and roughly 59°F (15°C) in the winter.
Top Things to do
Explore Rotorua National Park (all year long)
New Zealand International Comedy Festival (May)
Matariki Festival (June-July)
Australia
No matter where you are in the country, or what time of the year you come, Australia is a warm country. However, summer (November- February) is an intensely hot time of the year reaching a maximum temperature of around 80°F (26°C), or even higher temperatures. If you prefer cooler weather, you may find it a good idea to avoid visiting Australia during the peak of summer.
Luckily, though, the inverted seasons mean that during the northern hemisphere's summer months (June-August) Australia's temperature is hot, but not overly so, reaching a maximum temperature of roughly 64.4°F (18°C).
In addition, Australia tends to see very little rainfall all year round.
Top Events and Celebrations in Australia
Australian Tennis Open (January)
Visit the stunning Uluru rock face (all year long, but the summer heat can make visiting it uncomfortable)
Melbourne International Comedy Festival (February-March)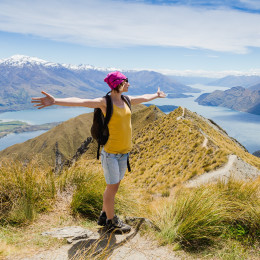 What to Pack for Oceania
Summer: December – February
In December, focusing on light, comfortable clothes is essential, and make sure you bring plenty of sunscreen to protect you from the worst effects of the heat. As the temperature is extremely warm in January, be sure to wear thin, light clothing, and strong sunscreen. You may also find it useful to pack good quality sunglasses and a sunhat. Bringing a large water bottle would also be useful, as drinking water will be essential if you spend time outside. Mosquito repellant is also a good idea. Remember to pack swimming gear too as taking a dip in the pool or in the ocean will seem extremely attractive in the hot weather.
In February too, be sure to pack warm weather gear, but as you are in fall, you may find sem-frequent rainfall in New Zealand. Bringing a waterproof layer or poncho (though perhaps not a full raincoat) could be a good idea, especially if you intend to visit the beautiful South Island.
Fall: March – May
As the weather is no longer quite so baking hot in April, it is a good time to do some outdoor activities. Bringing appropriate clothing and gear is a good idea depending on what you wish to do. This being said, ensuring that you're prepared for the warm weather is also essential. If you are only spending time in Australia and northern New Zealand, then wearing the usual warm-weather clothing should be fine in May. However, the further south you go in New Zealand, the more layers you should consider wearing.
Winter: June – August
Generally speaking, packing some layers no matter where you are can be a good idea, though don't be surprised if sometimes you don't need them. The further south you go in New Zealand, cold-weather clothes such as scarves, woollen hats, and fleeces as well as good quality waterproof clothing are worth remembering, as the rainfall is heavy in June.
In July, much of Australia remains warm, so pack accordingly. However, given the heavy rainfall and cold you may experience the further south you go in New Zealand, layers and warm clothing should be prioritised. In August, although the weather is beginning to change, ensuring you pack for cool-to-cold weather is advisable.
Spring: September – November
As with everywhere else, spring is the best time to visit Oceania. As you are likely to experience some hot days and some relatively cool days in September, packing for both is smart. Remember, winter has only just passed, so remembering to focus on packing for more cooler days than warm ones may be a good idea. October is really an ideal month to visit, with pleasant days and plenty of sunshine. In November, when summer is fast approaching, packing comfortable, lightweight clothes is important. However, if you intend to go to New Zealand's South Island, an extra layer or two can't hurt.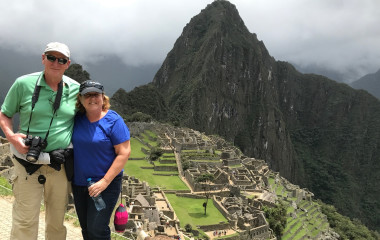 Your Ultimate Guide to the Top 10 UNESCO World Heritage Sites of 2019
They are stunning feats of architectural genius, historic centers of ancient cities, or incredibly rich habitats that are fast disappearing. Curated by our experts, discover 2019's top 10 UNESCO World Heritage sites from our exotic world.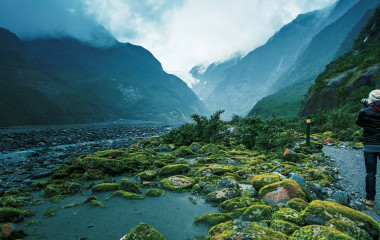 Spectacular Sights: New Zealand's Landscapes and Geology
From the impossibly beautiful Southern Alps to ancient glaciers, forests and beaches, get your lowdown on the stunning natural wonders of New Zealand.
THE ENCHANTING DIFFERENCE
Enchanting Travels made everything about planning our honeymoon totally seamless. We're relatively seasoned travelers and their ability to take care of the hard stuff (logistics) and take our advice on the fun stuff (activities and accommodation) was a great partnership. We had fun planning and even more fun on the trip.
I have traveled the world with Enchanting Travels for many consecutive years. Every trip is unique, exciting and unforgettable. Enchanting staff looks after me since day one we start planning the trip and follows up with me throughout my travel. If I need anything big or small, they go miles to help! I can not imagine a travel agency with better quality service than Enchanting Travels!
They took care of almost everything for us! It was wonderful! We had time with our guides that showed us the world of Indonesia, we would not have recognized otherwise, and we also had time on our own to discover and relax! You will not be disappointed if you book with Enchanting Travels!
Do you have a vacation in mind? Personalize your itinerary with our Trip Builder.