When is the best time to visit Fiji?
Those looking for the perfect beach vacation need look no further than Fiji, an archipelago of more than 300 captivating islands. Find the best time to visit Fiji so you can relax on the island's sun-drenched beaches, and swim its crystal clear waters.
The months of July, August, December, and January are the most popular due to school vacations, so plan your trip well in advance if you are visiting during those months.

The months of May, June, September, and October experience pleasant temperatures, dry days, and fall outside the school vacation season, making it some of the best months to travel to Fiji.
Most Ideal
Low Season
OVERVIEW
It's the middle of the wet season, but January is a popular time to visit the islands due to Australian and New Zealand school holidays. Temperatures are around 86°F across the islands, and humidity levels are high.
WE RECOMMEND
Make your way to Colo-i-Suva Forest Park to catch sight of the most exotic birds
When the skies clear up, head to the beaches and work on that perfect tan

OVERVIEW
There are chances of cyclones hitting the islands during the month. Due to high rainfall levels and peripheral winds that cause choppy sea conditions, February is not a popular month to visit the islands.
WE RECOMMEND
Savor the best of Fijian cuisine
Visit the colorful Nadi Temple
Witness an incredible fire walking ceremony, an age old tradition where Fijian men walk over a bed of hot stones
OVERVIEW
March sees the most amount of rainfall across the islands. The capital, Suva, experiences 21-23 days of rain during the month. Sea conditions are rough, making travel to and from the islands challenging.
WE RECOMMEND
Hike to Tavoro Falls, now full after the monsoons
Sit back and relax amid the island's blues and greens
OVERVIEW
Rainfall levels reduce by half in some of the islands, but April is still a wet month. Day time highs are in the mid-80s, and it is no longer as humid as it was in the previous months.
WE RECOMMEND
For a glimpse into the island's lush interiors and rich culture, go on a Sigatoka River Safari
Spend some time kayaking over Fiji's turquoise blue waters
OVERVIEW
May heralds the start of the dry season. Temperatures are around 80°F-82°F, and sea conditions start to get better. The second half of the month is a good time to visit the islands
WE RECOMMEND
Head to Mamanuca islands to watch experienced surfers catch some of the biggest waves
Hike your way to Des Voeux Peak and be rewarded with stunning vistas
OVERVIEW
With the skies clearing up, temperatures in the low 80s, excellent water clarity, and the summer crowds yet to arrive, June is one of the best times to visit Fiji.
WE RECOMMEND
Dive in at Monuriki Island for a fascinating coral reef show 
It's the perfect time to go island hopping
OVERVIEW
With Australian and New Zealand schools closing for summer, July is one of the busiest months of the year. The weather is mostly dry. Day time temperatures are in the high 70s while nighttime lows are in the upper 60s.
WE RECOMMEND
The Bula Festival is the perfect introduction to the island's culture
Get an adrenaline high with water sports at the Mamanucas Islands
OVERVIEW
With blue skies and pleasant temperatures, it continues to be a busy time of the year. Water temperatures are a warm 78°F, and it's the perfect time to indulge in water activities.
WE RECOMMEND
Beauty pageants, live music, and free entertainment are part of the Fiji Hibiscus Festival
Head out for a hike in the Garden Island of Taveuni and discover the region's rich biodiversity

OVERVIEW
September falls just outside the high tourist season and is a great month to visit Fiji. Temperatures are warm, humidity is low, and water conditions are just right for snorkeling and scuba diving.
WE RECOMMEND
Get a bird's eye view of the islands with an exciting helicopter ride
Experience the warmth and genuine hospitality of Fijians as you explore the green countryside

OVERVIEW
It's the last dry month before the monsoon season sets in. Temperatures inch up into the 80s and the seas are warmers too. Weather conditions in the first half of the month are conducive for a beach vacation
WE RECOMMEND
Fiji Day is celebrated with colorful parades and cultural programs
There are plenty of underwater marvels to see at the 'Soft Coral Capital of the World'


OVERVIEW
With rainfall levels increasing, the monsoons set in firmly. Temperatures inch up as do humidity levels. Head to the western side of Viti Levu near Nadi that experiences lesser rain if you are visiting the islands.
WE RECOMMEND
See the Hindu 'Festival of Lights,' Diwali, celebrated with much pomp and joy 
Explore the sights, sounds and flavors of Suva's Municipal market

OVERVIEW
Rains notwithstanding, December is a popular tourist month in Fiji. While rain spells are heavy and brief, there is a chance of flooding and boat and plane schedules getting affected during this month.
WE RECOMMEND
Get a traditional welcome with a Kava ceremony at Navala village
Pamper yourself with a banana leaf massage
Dream Carefree
Go ahead and dream big. Enchanting Travels experts are here to help you plan the ultimate escape. Tell us your vision for the trip of a lifetime and we'll make it a reality.
Plan Carefree
One of our destination experts will reach out to craft a completely customized itinerary. Book your personalized journey and know that our flexible policies have you covered.
Travel Carefree
Relax and prepare for takeoff, knowing that your trip is perfectly planned and you have a personal concierge on call 24/7. Our experts are here to keep you safe and handle the details.
Close
Best Time to Visit by Season
A perfect beach destination, Fiji sees temperatures in the range of 78°F to 88°F throughout the year.
The islands of Fiji experience a typical tropical weather system – with a cool, dry period that runs from May to October that the locals refer to as winter and a wet season that runs from November to March. Fiji sees the maximum number of tourists in July and August. Warmer temperatures and humid conditions characterize the wet season. Rain showers during the wet months are typically heavy but short lived. Cyclones are not uncommon during this time.
The bigger islands of Viti Levu and Vanua Levu receive significantly more rainfall than the smaller islands. Due to the trade winds, the capital Suva, which is on the south-eastern side of Viti Levu, sees a lot more rain than the northern parts of the island.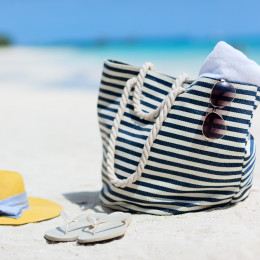 What to Pack for Fiji
With endless beaches to explore and water activities to try out, swimsuits need to be an essential part of your luggage. High SPF sunscreen, sunglasses, and sun hats are also a must. If you are planning to spend most of your time on the beach, a tote bag will prove useful. Also, remember to pack a sarong or cover-up as you shift from the poolside to the lunch table to the beachside. While flip flops work well for the beach, you will need walking shoes if you are planning to hike or explore the interiors. Do remember to dress modestly while visiting the villages on the islands – tops covering the shoulders and knee-length shorts or dresses are recommended.
While the months from November to March see the maximum rainfall, it can also rain outside of these months. It is best to carry good quality rainwear for times when you might get caught in a sudden downpour. Also, pack a light shawl or cardigan for those windy evenings that might bring about a slight chill.
Get in touch with us to find out more about the best time to visit Fiji. With a safe, private and tailor made itinerary, we will help you experience the of this tropical island paradise seamlessly!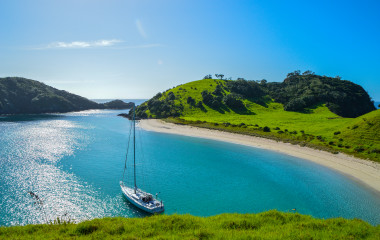 Road Trip: Marvels of the South Pacific
21 Days: $ 10,090
/ person
Remote island paradises, breathtaking landscapes and vibrant cities await you on this comprehensive South Pacific tour. Not just the virgin shores of Fiji and Samoa, you will also discover lesser-known gems on a luxury cruise.
Load More
OUR AWARDS
At Enchanting Travels, our unique tours are built on extensive knowledge of our destinations, an outstanding team of professionals, and personalized top-notch service. Our work is consistently recognized by prestigious organizations across the travel industry. In 2020, we received the Travel Weekly Magellan Gold Award for the World's Leading Tour Operator – Overall and were recognized as North America's Leading Tour Operator by World Travel Awards. In 2021, we have won the Lux Life Magazine Award for the Best Global Custom Travel Company – USA.





My wife and I have been planning a trip through South America and our Travel Consultant, Lisa Fox, has provided nothing but exceptional service and support to create the perfect itinerary for this trip. Bags were nearly packed and we could picture the view from Machu Picchu, but plans have had to change due to travel safety and restrictions from the recent Coronavirus. While this could have been a very stressful time having to reschedule, rebook and who knows how much money could have been lost for what has already been paid for, Enchanting Travels has made it incredibly easy and stress free to reschedule the trip once this passes. We are very appreciative for the pre-trip support, and can already tell that the experience once we are actually on the road will be equally incredibly. Thanks for all your support!
"Great company, great people!
They helped us put together a complex schedule which included a number of experiences that we could not otherwise get. Also, in light of Covid-19, they were able to reschedule our upcoming Japan trip without additional fees, where many of my friends have scheduled similar trips (same timeframe) on their own, and all were refused a refund or reschedule without significant fees, despite having trip insurance."
"We have used Enchanting Travels twice for trips. We couldn't have been happier with the trips planned. Our first trip was a spectacular trip to southern India with driver for three weeks. This year's trip was to Scotland. Unfortunately with the corona virus pandemic we chose to postpone this trip until 2021. Enchanting travels was very understanding of our concerns and quickly responded by moving our trip with all our desired sights to spring of 2021. Couldn't ask for anything better from this stellar company with their caring staff."
"The best thing about Enchanting Travels is the people, from the trip planners to the guides to the drivers. Everyone has been friendly, courteous and professional. The activities and accommodations are planned to fit our wishes, but we still had the flexibility to add or change and activity at short notice."
Enchanting Travels is a bespoke experience. From planning my trip, through to the trip itself, everything was thought about. We traveled at a particularly difficult time, due to the Coronavirus outbreak. We were supported with everything, kept up to date with how the situation was developing and how this might affect us. Having WiFi in the car allowed us to communicate with our Trip Coordinator and check with our online government updates. Our stay was luckily not affected, but I felt so supported by the team. Our guides were ready waiting for us, could answer any questions about the sites we were visiting, they communicated with our chauffeur to ensure everything went smoothly. I could not recommend this company more highly. Excellent planning, experience, and execution. Our holiday was truly ENCHANTING!
"I recently completed a 46-day adventure tour through India that was the best ever thanks to Enchanting Travels. The Enchanting Agent began by interviewing me for an hour and came back with the perfect routing and pacing. The on-the-ground support was second to none. Enchanting says that their trip coordinators are there 'in case of emergency' but that does not come near to describing the relationship. My trip coordinator was in constant communication with me to ensure that every leg of the trip went as planned. No detail was too small for her to look after. I was assigned the same driver for 27 days and he was the 'Best Indian Driver Ever' because he did more than drive. He curated experiences on the road on those 'non-planned' days that I will remember for a lifetime. The value for money was simply remarkable. I don't think I'll travel without the help of Enchanting Travels again."
THE ENCHANTING DIFFERENCE
Do you have a vacation in mind? Let us help you create the trip of a lifetime.