When is the best time to visit French Polynesia?
Coconut tree-fringed beaches, gorgeous blue skies, and even bluer lagoons make the islands of French Polynesia seem like something out of a picture postcard. Find out the best time to visit French Polynesia because a vacation to these breathtakingly beautiful islands is everything you ever dreamed of on a beach holiday.
The months of July and August present ideal travel conditions and are also the busiest time of the year. But the months of May, June, September, and October provide visitors a winning combination of great weather along with lesser crowds. 
Even though December is smack in the middle of the rainy season, it is a busy month as travelers arrive for the Christmas holidays and to ring in the New Year.
Most Ideal
Low Season
OVERVIEW
Despite this being one of the rainiest periods of the year, the first half of the month is busy with tourists visiting the islands during the European winter break.
WE RECOMMEND
Shake a leg at a traditional Tahitian dance show
Find out how the Tahitian pearl is cultivated at one of the many pearl farms and gift yourself a little trinket
OVERVIEW
Weather conditions are very similar to how they were in January though rainfall levels decrease a little. Day time highs are around 83°F, and nighttime lows are in the low 70s.
WE RECOMMEND
Savor the freshest seafood delicacies and traditional Polynesia cuisine
Breathe in some sea breeze and work on that tan, with a tropical drink in hand
OVERVIEW
Rainfall levels continue to fall to almost half of the previous month. With day time temperatures around 84°F, it is the warmest month of the year. With the end of the rainy season around the corner, humidity levels also become manageable.
WE RECOMMEND
Discover Tahiti's beautiful black sand beaches
An underwater paradise awaits at the Bora Bora lagoon
OVERVIEW
Rainfall levels are similar to those in March, but the number of rainy days starts to lessen. Average day time temperatures are steady at around 83°F.
WE RECOMMEND
Watch a spectacular display of traditional Polynesian dance at the Ori Tahiti Festival
Feed friendly stingrays at Bora Bora
OVERVIEW
The month marks the transition from wet to dry weather. Rainfall levels drop but don't put away that umbrella just yet. It is a good time to visit the islands of French Polynesia without the crowds.
WE RECOMMEND
Explore the beautiful Papenoo Valley and discover its stunning waterfalls
Laze on secluded beaches and swim with schools of colorful fishes as you take a boat ride to the Tuamotu Atolls
OVERVIEW
With clear azure skies, favorable sea conditions, and little rain, June is one of the best times to visit French Polynesia. What makes it even better is that the holiday crowds are yet to arrive.
WE RECOMMEND
Experience the thrill of swimming with manta rays
Hike Mount Aorai in Tahiti, which is  lush green after the monsoons
OVERVIEW
July is the best time to visit French Polynesia as the weather is great but it is also the peak tourist season. Day time temperatures are just short of the 80-degree mark while nighttime lows are around 66°F. Trade winds can make evenings chilly, so pack a light jacket.
WE RECOMMEND
Witness the best of Tahitian culture with canoe races, traditional dance, and sports competitions at the Heiva/ Tahiti Festival
Sailing enthusiasts descend upon Tahiti and Moorea for the Tahiti Moorea Sailing Rendez-Vous
OVERVIEW
It's the driest and coldest month of the year. Day time highs are in the 70s while nighttime temperatures drop to the mid-60s. The vacation crowds continue to throng the beaches of French Polynesia.
WE RECOMMEND
Take in a sublime sunset or two at Matira Point in Bora Bora
Watch pro surfers ride some of the biggest waves at the Billabong Pro Teahupoo in Tahiti
OVERVIEW
It's quieter compared to previous months, but warm temperatures and excellent sea conditions make September one of the best times to visit French Polynesia.
WE RECOMMEND
It's birthing time for humpback whales. Spot pods of humpback whales and their calves as they swim in the waters near the islands of French Polynesia.
For an insight into the island's culture, visit Marae Taputapuatea, a traditional Polynesian temple complex
OVERVIEW
Humidity levels start increasing as do rainfall levels. However, you will still find plenty of sunny days making October a good month to travel to French Polynesia. The month marks the transition from the dry to the wet season.
WE RECOMMEND
Trek, ride or drive to Belvedere Lookout in Moorea for sweeping views of the island 
Hire a motorbike or cycle for an island tour
OVERVIEW
It's the beginning of the monsoon season. Rainfall levels are double of the previous month, and the humidity is noticeably higher. If you are visiting the region, head to the northernmost Marquesas islands that experience considerably less rain.
WE RECOMMEND
Discover secret bays and beaches at the Marquesas Archipelago.
Watch the skies over the islands put on a brilliant color show as you head out on a relaxing sunset cruise
OVERVIEW
The month sees the most amount of rain. Showers are typically short bursts followed by clear blue skies. Daytime temperatures are in the low 80s. The islands get crowded during the latter part of the month owing to Christmas break.
WE RECOMMEND
Relax and rejuvenate in one of many overwater bungalows that dot the island's beaches 
Traverse the rugged interiors of Moorea on an ATV tour
Dream Carefree
Go ahead and dream big. Enchanting Travels experts are here to help you plan the ultimate escape. Tell us your vision for the trip of a lifetime and we'll make it a reality.
Plan Carefree
One of our destination experts will reach out to craft a completely customized itinerary. Book your personalized journey and know that our flexible policies have you covered.
Travel Carefree
Relax and prepare for takeoff, knowing that your trip is perfectly planned and you have a personal concierge on call 24/7. Our experts are here to keep you safe and handle the details.
Close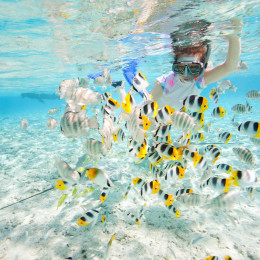 Best Time to Visit by Season
Located in the South Pacific Ocean, the archipelago of French Polynesia experiences a fairly predictable tropical weather system. 
The dry or winter season runs from May to October. During this period, the islands experience perfect beach weather – little to no rainfall, clear, blue skies, pleasant temperatures, and cool nights. Day time averages range from the low to mid-80s while nighttime lows hover around 70°F. Not surprisingly, this is the peak tourist season. During the period from May-June, the islands are lush green, having just come out of the monsoon season.
The months of July and August, in particular, see a high volume of tourists visiting the islands during summer break. With sea temperatures hovering between 77°F – 81°F and clear water conditions, it's the perfect time to go snorkeling or scuba diving. The months of September and October are perfect for whale watching. 
The months from November to April are the monsoon or summer season in the archipelago. Expect wet days, higher temperatures, and humidity levels. Most times, rain showers are in the form of short bursts that clear out to reveal blue skies and plenty of sunshine in the afternoon. There is a chance of hurricanes from December to April though it is not very common. Daytime temperatures are usually in the mid-80s, and the seas warm up to a very enjoyable 82°F. It is a quieter time of the year except for the period from mid-December to mid-Jan when tourists arrive for winter break. 
An exception to this weather pattern is the Marquesa Islands, which lies in the northernmost part of the archipelago. These islands see warm temperatures year-round and experience less rainfall than the other islands.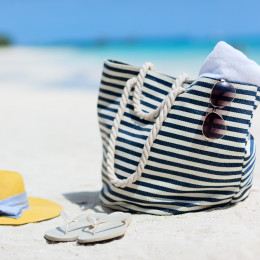 What to Pack for French Polynesia
Swimsuits, stylish cover-ups or sarongs, sunscreen lotion, sunhats, and sunglasses are a must when visiting French Polynesia, a destination that boasts of the most picturesque beaches in the world. With warm temperatures throughout the year, it's best to pack cotton or linen tops, shorts, rompers, skirts, and dresses. For men, we recommend taking a few sets of half sleeve shirts or T-shirts and shorts. Pack a pair of comfortable, waterproof sandals – they work well on the beach, off it, and aboard a boat. 
If you are planning on trekking or exploring the region's impressive waterfalls, we recommend you get lightweight pants and a good pair of hiking shoes. Also pack a backpack with some insect repellant, water bottle, and towel when you set out to explore the island's lush interiors.
Whether you are traveling during the rainy season or not, it is advisable to pack good quality rain gear. You never know when an odd shower might catch you off guard.
Talk to our travel experts and find the best times to visit French Polynesia for your perfect beach vacation. Get in touch with us for a tailor-made itinerary to the islands of Tahiti, Bora Bora, and Moorea.
popular trips to french polynesia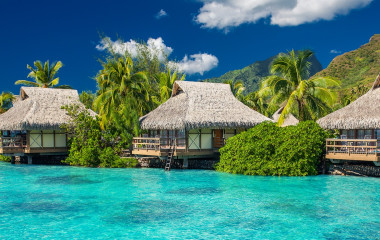 French Polynesia: Island Hopping and Romance
13 Days: $ 6,590
/ person
Uncover the natural beauty and romance of French Polynesia on this tailor-made tour! By flight as well as boat, travel between Huahine, Bora Bora, and Moorea, enjoying sumptuous stays in overwater villas as well as a diverse range of excursions and activities.
Secrets of the South Pacific: Tahiti, Bora Bora and Blue Lagoon
13 Days: $ 6,590
/ person
Paradise awaits you in the South Pacific! On this private tour, explore the secrets of the pristine Society Islands the Tuamoto Archipelago at your own pace.
OUR AWARDS
At Enchanting Travels, our unique tours are built on extensive knowledge of our destinations, an outstanding team of professionals, and personalized top-notch service. Our work is consistently recognized by prestigious organizations across the travel industry. In 2020, we received the Travel Weekly Magellan Gold Award for the World's Leading Tour Operator – Overall and were recognized as North America's Leading Tour Operator by World Travel Awards. In 2021, we have won the Lux Life Magazine Award for the Best Global Custom Travel Company – USA.






My wife and I have been planning a trip through South America and our Travel Consultant, Lisa Fox, has provided nothing but exceptional service and support to create the perfect itinerary for this trip. Bags were nearly packed and we could picture the view from Machu Picchu, but plans have had to change due to travel safety and restrictions from the recent Coronavirus. While this could have been a very stressful time having to reschedule, rebook and who knows how much money could have been lost for what has already been paid for, Enchanting Travels has made it incredibly easy and stress free to reschedule the trip once this passes. We are very appreciative for the pre-trip support, and can already tell that the experience once we are actually on the road will be equally incredibly. Thanks for all your support!
"Great company, great people!
They helped us put together a complex schedule which included a number of experiences that we could not otherwise get. Also, in light of Covid-19, they were able to reschedule our upcoming Japan trip without additional fees, where many of my friends have scheduled similar trips (same timeframe) on their own, and all were refused a refund or reschedule without significant fees, despite having trip insurance."
"We have used Enchanting Travels twice for trips. We couldn't have been happier with the trips planned. Our first trip was a spectacular trip to southern India with driver for three weeks. This year's trip was to Scotland. Unfortunately with the corona virus pandemic we chose to postpone this trip until 2021. Enchanting travels was very understanding of our concerns and quickly responded by moving our trip with all our desired sights to spring of 2021. Couldn't ask for anything better from this stellar company with their caring staff."
"The best thing about Enchanting Travels is the people, from the trip planners to the guides to the drivers. Everyone has been friendly, courteous and professional. The activities and accommodations are planned to fit our wishes, but we still had the flexibility to add or change and activity at short notice."
Enchanting Travels is a bespoke experience. From planning my trip, through to the trip itself, everything was thought about. We traveled at a particularly difficult time, due to the Coronavirus outbreak. We were supported with everything, kept up to date with how the situation was developing and how this might affect us. Having WiFi in the car allowed us to communicate with our Trip Coordinator and check with our online government updates. Our stay was luckily not affected, but I felt so supported by the team. Our guides were ready waiting for us, could answer any questions about the sites we were visiting, they communicated with our chauffeur to ensure everything went smoothly. I could not recommend this company more highly. Excellent planning, experience, and execution. Our holiday was truly ENCHANTING!
"I recently completed a 46-day adventure tour through India that was the best ever thanks to Enchanting Travels. The Enchanting Agent began by interviewing me for an hour and came back with the perfect routing and pacing. The on-the-ground support was second to none. Enchanting says that their trip coordinators are there 'in case of emergency' but that does not come near to describing the relationship. My trip coordinator was in constant communication with me to ensure that every leg of the trip went as planned. No detail was too small for her to look after. I was assigned the same driver for 27 days and he was the 'Best Indian Driver Ever' because he did more than drive. He curated experiences on the road on those 'non-planned' days that I will remember for a lifetime. The value for money was simply remarkable. I don't think I'll travel without the help of Enchanting Travels again."
THE ENCHANTING DIFFERENCE
Do you have a vacation in mind? Let us help you create the trip of a lifetime.