German Cuisine
Once upon a time, German food may have been more famous for being functional – a comforting and hearty meal – than it was for its finesse and beauty. However, in the last few decades, German cuisine has redefined itself and new dishes and new twists on old favorites are everywhere to be found.
Accessible with a broad appeal, at its heart are filling stews and pork, knuckles and sausages. There are sauces and veal dishes galore accompanied with delicious sauerkraut. German food relies on seasonal vegetables and potatoes as a staple. German cuisine is also full of breads and cakes, with good beers or a fine Riesling to wash it all down with.
Summer nights are long in Germany and the winters are harsh. To combat those cold winters, various forms of food preservation are common to this day – salting, pickling, smoking and curing. Sauerbraten (cured roast beef) and matjes (pickled herring) are two such traditional dishes still very popular today.
Dream Carefree
Go ahead and dream big. Enchanting Travels experts are here to help you plan the ultimate escape. Tell us your vision for the trip of a lifetime and we'll make it a reality.
Plan Carefree
One of our destination experts will reach out to craft a completely customized itinerary. Book your personalized journey and know that our flexible policies have you covered.
Travel Carefree
Relax and prepare for takeoff, knowing that your trip is perfectly planned and you have a personal concierge on call 24/7. Our experts are here to keep you safe and handle the details.
Close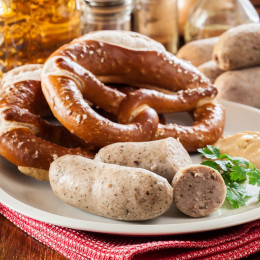 Food in Germany
This is a big meat-eating country from the first meal to the last. German breakfasts are simple; bread or toast with a choice of jams and cold meats, some sliced cheeses.
Lunchtime is seen as the main meal of the day. However, not everyone follows this as a rule of thumb these days. Lunches consist of sandwiches, or a variety of meats, sausages, cheeses and breads. Dinner is typically a hot meal of stews or soups. Snacking on coffee and cake is also very popular with German people.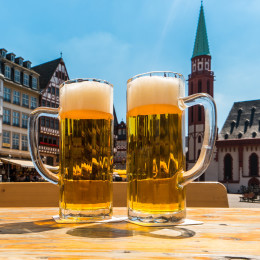 Regional German Cuisine
Across Germany's 16 states, there are some very distinct regional dishes. Bavaria in the southeast, where many American soldiers were once stationed during the division of the country after WWII, is famous for beer, pretzels and dumplings. Franconia, also in the southeast, is the wine region of Germany – it's renowned not just for its white wines but also for its lamb. The southeast is also home to Munich – the Bavarian capital and, for many, the beer capital of Germany. There is no better dish to eat alongside a cold stein of beer in the beer halls of the city than the traditional schweinshaxe or roasted ham hock with fried potatoes.
Frankfurt is Germany's most central city and boasts not only the sausage named after it but also a number of surprises. When it comes to alcohol the drinking culture is as big as any other German city, but Frankfurt bucks the trend somewhat. Rather than beer, Frankfurt's drink of choice is a tart cider called appelwoi. After indulging in pork dishes and glasses of cider, their dessert of choice is the Frankfurter Kranz – a layered sponge cake with buttercream icing and fruit.
The Southwest and Black Forest region have inherited many culinary traditions from the French and specialize in assorted meats and cheeses. Saxony in the east is famous for its cakes and spicy Thuringian sausage, spiced with caraway and marjoram. Berlin, frequently described by locals as the cultural and culinary hub of the country, boasts a variety of influences and food from around the country and the world.
The west and north lean towards heavier fare with a love for blood puddings and potato cakes. As you hit the coast you will notice an increase in herring, crab, shrimp and mussel dishes.
Germans take their food seriously. After France, Germany is home to the most Michelin starred restaurants in the world (282). Having reinvented its image from 'homely' to 'wholesome', new modern twists on classic recipes are driving people out to dine.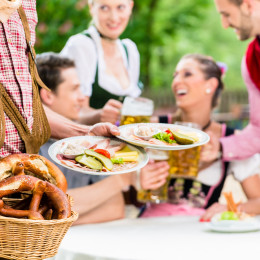 What to eat in Germany
When in Germany, try some of these reliable classics.
Weisswurst – A traditional white sausage of Bavaria made with a combination of veal and pork. Eaten as a snack rather than a main course, it's served alongside a soft salted pretzel and dipping mustard.
Maultaschen (Swabian ravioli) – Much larger than their Italian cousin, these ravioli are made with thicker dough and principally contain minced smoked meat, bread or crumbs, spinach, parsley and nutmeg. Served in a clear broth this is a classic example of hearty Germanic food.
Kölsch Beer – Germany is flush with crisp fragrant beers. Kölsch beer originated in Cologne and is unusual; it is fermented with ale yeast but brewed at cold temperatures like a lager. As a result, it is a bright yellow color and is seen as a cult beer.
The Neunerlei feast – A product of Saxony and fit for any king. This nine-course meal is the centrepiece of the Erzgebirge Christmas celebrations. The components of the nine courses can vary, but most incorporate bratwurst, sauerkraut, meat-filled dumplings and various mushrooms and nuts.
Black Forest Gateau – It is Germany's greatest dessert and remains the king of cakes. Smothered in cherries, cream and chocolate shavings, it is a sinful delicacy like no other.
Wine – West Germany and the areas around the UNESCO protected Rhine Gorge are German wine territory. There are 13 wine-growing regions including beautiful Baden–the warmest and sunniest wine-growing region of them all. The renowned Riesling is the best known (white) grape but there are also several fine pinot noirs.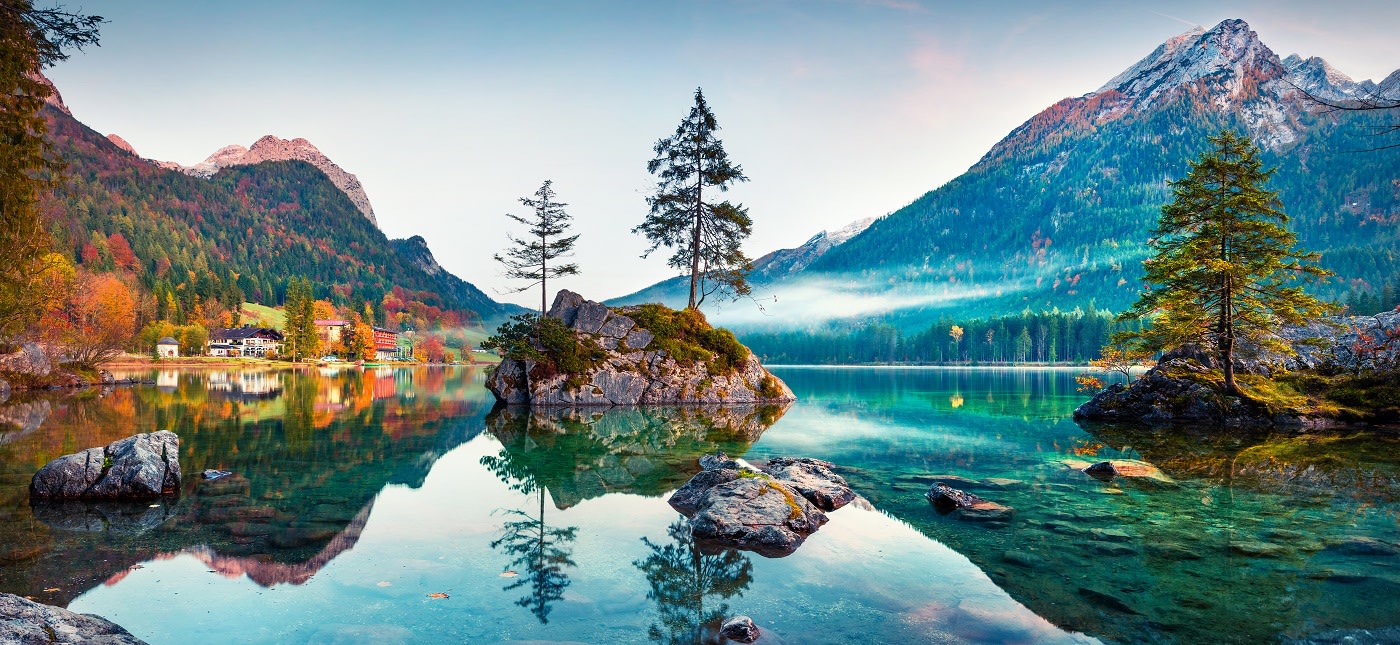 THE ENCHANTING DIFFERENCE
One of the very best travel experiences I have ever had. We even got updates once at 3 am! He also made one change in one day's itinerary to accommodate our wishes which was very wonderful. For business, I have traveled to Europe, Russia, all over Asia and South Africa but was blown away by all the beautiful sites in Argentina and Chile.
All the little touches made by our Enchanting Travel consultant, Amelia Edwards, were noticed and recognized by my wife and I. Thank you for making our milestone trip (25th wedding anniversary) such a memorable one! We look forward to engaging Enchanting Travels again for our next South American adventure!!
This was my first adventure as a solo traveler. But while I may have traveled on my own, I was never alone. I was well taken care of by a superb team of planners, trip coordinators, guides and drivers.
Do you have a vacation in mind? Let us help you create the trip of a lifetime.