Cuisine in Chile
What can you expect from the cuisine in Chile? Our experts have some tips to share with you.
With over 2000 miles of Pacific coastline, Chile boasts some of the world's best seafood. Try some delicious wine on your Chile tour. The country is famous for its exquisite wines, which are a result of its incredible geography and climate.
The central valleys produce full-bodied red wines like Cabernet and Carmenere while the coastal ranges offer you pleasure of trying delicious whites such as Chardonnay and Sauvignon Blanc on your private Chile tour. In addition, Chile also has incredible fresh produce so its cuisine is full of fresh flavors. A convivivial evening spent by the barbecue pit is an essential part of your Chile travel package. All Chileans enjoy a good barbecue, especially during family get-togethers. In Patagonia, gauchosare known to roast lamb on a spit with an open fire.
Expect to dine at odd hours during your Chile tour as mealtimes are different than elsewhere in the world. Dinner is between 8:30 pm and 11:30pm, lunch can be anytime between 12.30 pm and 4 pm while tea or coffee is served during a tea break called las onces around 5 or 6 pm.
Explore
Where do you want to go? What do you want to do? Be it popular sights or off the beaten path experiences, tell us your travel dream through our trip planner.
Design
Our destination experts will get in touch with you to craft a completely tailor-made, obligation-free itinerary to match your interests and budget.
Experience
Once you have booked your trip, sit back and relax – we'll take care of everything else. With our exceptional local team & 24/7 support, priceless memories await you!
Close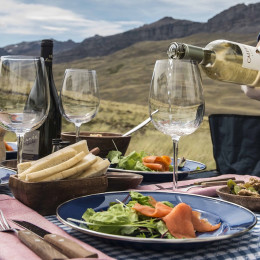 Cuisine in Chile – Expert tips
Chileans are known for their love of salt and often add salt to cooked food before even tasting it! Be sure to taste your dishes first before adding.
Caldillo de Congrio, a soup made of conger, eel and vegetables, finds mention in Nobel Laureate Pablo Neruda's poem Oda al Caldillo de Congrio.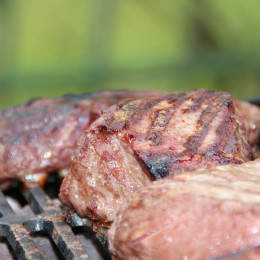 Why not try some typical Chilean food?
Curanto: stew made from various shellfish
Machas a la parmesana: parmesan clams
Fresh salmon: the name says it all!
Asado: a type of barbecue particularly favored during family gatherings
Completo: a type of hot dog loaded with sauerkraut, avocado, mayonnaise, mustard and cheese – a popular type of street food in Chile

One of the very best travel experiences I have ever had. We even got updates once at 3 am! He also made one change in one day's itinerary to accommodate our wishes which was very wonderful. For business, I have traveled to Europe, Russia, all over Asia and South Africa but was blown away by all the beautiful sites in Argentina and Chile.
All the little touches made by our Enchanting Travel consultant, Amelia Edwards, were noticed and recognized by my wife and I. Thank you for making our milestone trip (25th wedding anniversary) such a memorable one! We look forward to engaging Enchanting Travels again for our next South American adventure!!
This was my first adventure as a solo traveler. But while I may have traveled on my own, I was never alone. I was well taken care of by a superb team of planners, trip coordinators, guides and drivers.
Do you have a vacation in mind? Personalize your itinerary with our Trip Builder.