Culture of Chile
The culture of Chile is reflective of its mix of indigenous tribes and descendants of Spanish colonialists, and is also a result of its geographic isolation from the rest of South America. In general, Chileans are warm, creative, family-oriented people, though somewhat more formal than some of their Latin American neighbors.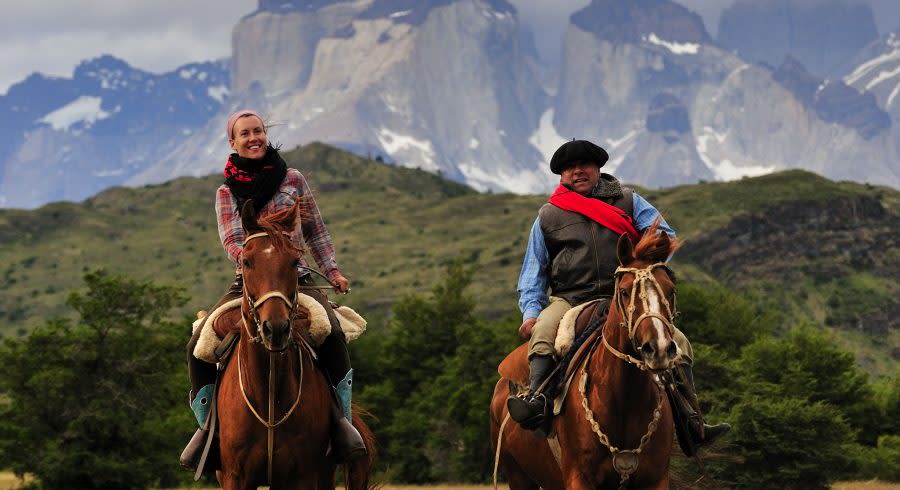 Explore
Where do you want to go? What do you want to do? Be it popular sights or off the beaten path experiences, tell us your travel dream through our trip planner.
Design
Our destination experts will get in touch with you to craft a completely tailor-made, obligation-free itinerary to match your interests and budget.
Experience
Once you have booked your trip, sit back and relax – we'll take care of everything else. With our exceptional local team & 24/7 support, priceless memories await you!
Close
Traditions and culture of Chile
As you tour through Chile, you'll find that it's home to a plethora of famous creative minds and unique cultural identities, specifically Nobel Prize-winning poet Pablo Neruda and author Isabel Allende.
You can see a lot of indigenous influence on the country during your Chile tour, especially from the Mapuche and the Araucanians found in the South. On Easter Island, the Polynesian Rapa Nui culture is strongly represented to this day.
Meet the huaso, a type of cowboy. Huasos are popular folkloric figures in central Chile and are part of the nationalist identity. The folk dance associated with the huaso is the cuenca, which is Chile's national dance. In the far south of Patagonia one can find gaucho culture, another type of cowboy that is very similar to the Argentinean gaucho due to the geographic proximity and shared influences – this was a borderless region until modern times.
Top Chile Travel Tip – Culture:
Include a visit to Valparaiso on New Years' Eve in your tailor-made luxury Chile tours and you won't be disappointed. The city holds a World Record from 2007 for having the largest number of fireworks go off on a single evening, at the New Year's Pyrotechnic Festival (which is held every year)!

THE ENCHANTING DIFFERENCE
One of the very best travel experiences I have ever had. We even got updates once at 3 am! He also made one change in one day's itinerary to accommodate our wishes which was very wonderful. For business, I have traveled to Europe, Russia, all over Asia and South Africa but was blown away by all the beautiful sites in Argentina and Chile.
All the little touches made by our Enchanting Travel consultant, Amelia Edwards, were noticed and recognized by my wife and I. Thank you for making our milestone trip (25th wedding anniversary) such a memorable one! We look forward to engaging Enchanting Travels again for our next South American adventure!!
This was my first adventure as a solo traveler. But while I may have traveled on my own, I was never alone. I was well taken care of by a superb team of planners, trip coordinators, guides and drivers.
Do you have a vacation in mind? Personalize your itinerary with our Trip Builder.