Every moment in the Amazon is one to savor. Each part of the rainforest offers a distinct experience, but the Anavilhanas Archipelago is a landscape unlike any other. Discover uniquely wild and wonderful private tours in the Brazilian Amazon with Enchanting Travels, your tailor-made experts!
Unmatched biodiversity,
Astonishing natural splendor,
Captivating sights and sounds,
Breathtaking experiences,
A myriad of simple pleasures;
Intricate. Alive. Humbling.
A complex ecosystem of 400 islands on the Rio Negro, the world's largest blackwater river, each island of the Brazilian Amazon boasts unusual wildlife, lakes, waterfalls and fascinating flora.
With a stay at the rustic Anavilhanas Jungle Lodge, you will be able to explore the Archipelago in depth. With the range of tailor-made experiences that our Brazil destination experts can include in your itinerary will ensure your Amazonian vacation is truly enchanting!
Dawn of a New Beginning
Begin your adventure by experiencing the awakening of the forest.
As dawn breaks, navigate the trails of bird habitats and spot many endemic species and migratory flocks with your expert naturalist of the Amazon. From macaws and cuckoos to herons and harpy eagles, there is nothing more exciting for avid bird watchers than heading out across a multitude of terrains – river banks, canopies, understories and bamboo groves. It will be handy to carry a small book and pen to take down notes of all the exotic birdlife you encounter.
While you indulge in bird watching, you will also witness a breathtaking sunrise. A sign of a new beginning, observing the hues of the Amazonian sky will set your soul on fire.
Up Close & Personal
A hike through the Archipelago's dry forests is one of the most intimate ways to discover its abundance.
Led by your knowledgeable local guides, explore trees, fruits, medicinal herbs, animals and forest survival strategies. As the trek can be challenging at times, it pays to be well prepared with good, comfortable shoes and a bottle of water.
You will love this trek, and there's much to be seen when you look up into the treetops, from old world macaques monkeys to white-headed-marmosets and sleepy sloths!
The combination of exotic landscapes, exceptional biodiversity, picturesque river banks, and innumerable colors will certainly give you the feeling of being in paradise.
Rendezvous with Pink Dolphins
An arduous hike calls for some relaxation, and nothing is more soothing than spending your day with the renowned Boto (Pink Dolphins). Found only in the Amazon, there's something special about watching wildlife in their natural habitat.
These dolphins change color from gray to pink as they age. You can easily spot them splashing around, and some even come close to shore. With their outgoing, welcoming personalities, it won't be long before you want to jump in and swim with these mammals!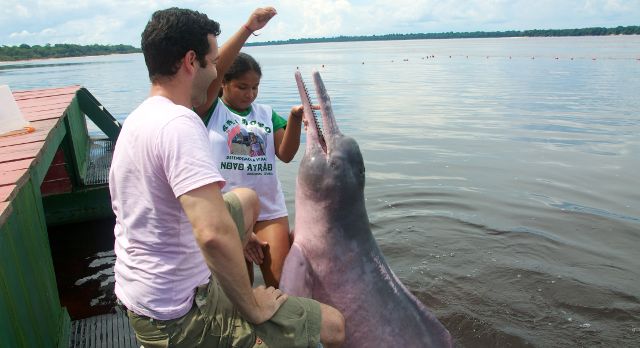 Fascinatingly, Botos play a major role in the local culture. Ethnic groups believe in folk tales of the legendary Encantado, a magically charmed, shape-shifting river dolphin that transforms into a man to attract the local women.
One Rod, a Hook, & a Pocket of Bait
Why not spend an afternoon of your Amazon vacation fishing for Piranhas in the Rio Negro? As one of the most entertaining activities, you will be provided with rods, hooks, bait, and tips on how best to catch these feisty fish.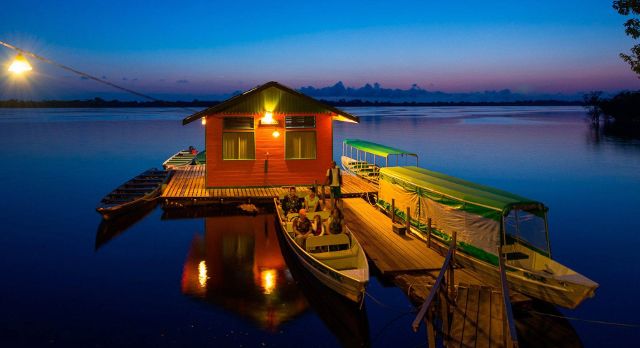 Known for their voracious appetite and razor-sharp teeth, you can either release the piranhas back into the river, or bring them back to the lodge as they make a delightful catch for dinner.
End your fishing expedition relishing a tasty meal while admiring the smells, sights and sounds of the forest.
Cruising the Glassy Waterways
It's the traditional way to experience the Amazon: to sail the Rio Negro. This black river, home to over 700 species of fish, gets its color from humic acid.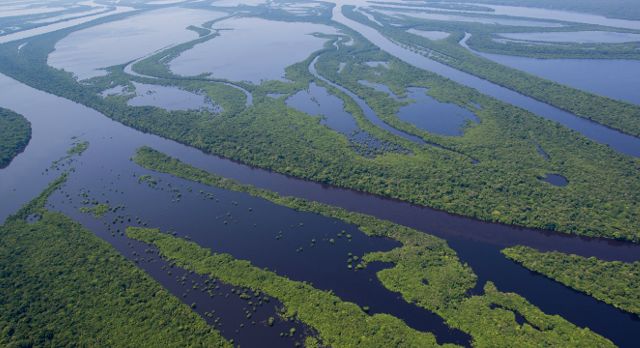 As you enjoy this relaxing cruise, explore the igapós (flooded lands) and igarapés (creeks) in all their natural splendor. You have the option of using a boat or a canoe to paddle between trees and passages thick with foliage.
With this tour, enjoy the songs of nature, admire the changing scenery and once you've worked an appetite, relish some local delicacies for lunch.
The Romantic Appeal of Ancient Traditions
We believe a private Enchanting Travels Brazilian Amazon vacation is only complete with a visit to the local community, to gain authentic insights into the culture.
Interact with the Caboclos (mixed Indian and Portuguese ancestry) who live in stilt houses by the river, and are welcoming and receptive to guests. Learn about their lifestyle, customs, agriculture and social structure.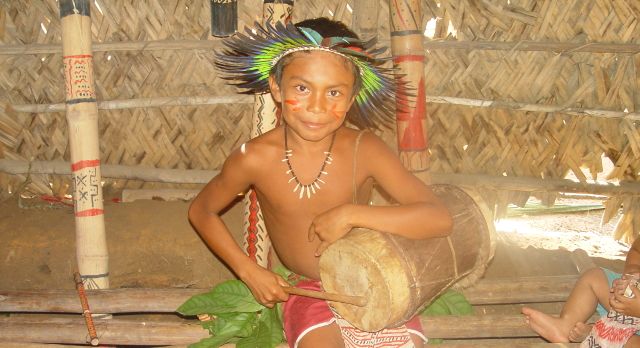 You can also meet another ethnic group, the Waimiri-Atroari, and have a wonderful time discovering native artifacts and techniques – even shooting with a bow and arrow!
While visiting these communities can be an extraordinary experience, it's crucial to respect these native people and their lifestyle, and with your expert local guide at your side, you will be supported in how to communicate and behave considerately.
Heart of the Wild: Tours in the Brazilian Amazon
Lastly, tickle your adventurous bone and end your trip with an adrenaline-fueled escapade!
Venture into the heart of the Anavilhanas Archipelago during a warm night. As you navigate the still waters, enjoy the reflection of the stars covering the dark velvet sky.
A night tour is an experience like no other! With heightened senses and ample curiosity, it's a perfect opportunity to spot an anaconda stalking its prey, a Cayman sleeping on the banks, or a giant tarantula leisurely sitting on a branch.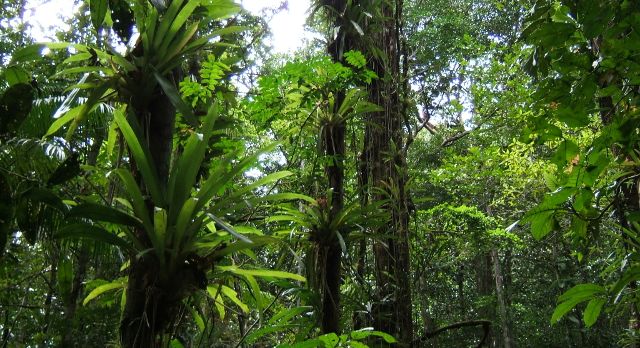 The Amazon has it all. Therefore, it's no surprise that it's one of the world's most prized jewels.
Get in touch with a South America destination expert at Enchanting Travels today to uncover the mysteries of this wild wonderland with our delightful, private tours in the Brazilian Amazon!
SEE SAMPLE TOURS IN THE BRAZILIAN AMAZON